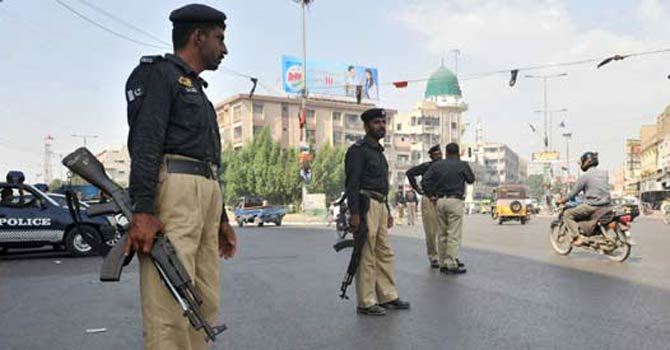 KARACHI: Unknown gunmen on Tuesday opened fire on a vehicle near Bab-i-Khyber in the Metroville area of SITE, Karachi, killing a police officer on the spot.
Speaking to Dawn.com, Deputy Inspector General West Javed Alam Odho said Inspector Bahauddin Babar left his residence to go to his office when unknown gunmen opened fire on his vehicle as it approached near the Bab-i-Khyber in Metroville.
He added that the police officer took five bullets and died on the spot.
Bahauddin Babar was one of the police officers demoted to the rank of Inspector from Deputy Superintendant Police (DSP) upon the orders of the Supreme Court of Pakistan in the out of turn promotions case.
The slain officer had also been a member of the Lyari Task Force Cell (LTFC) and was involved in the arrest of a number of criminals involved in the Lyari gang war.
He is also known for his alleged involvement in the escape incident of Rehman Baloch and was part of the police team that included DSP Chaudhry Aslam and DSP Irfan Bahadur. But they went their separate ways after the incident involving the escape of Baloch from Babar's custody.
Currently, Babar was posted a member of the anti-violent crime cell (AVCC).
Hand-grenade attack on MQM MPA's vehicle
Also today, a vehicle carrying Muttahida Qaumi Movement MPA Dr Arshad Vohra was attacked in SITE with a hand-grenade. Shots were also fired targeting the MPA's vehicle.
Odho said Dr Vohra, who also owns a factory in the area, was on his way to work when his vehicle was attacked.
The rear of the vehicle was damaged in the attack but no casualties were reported, Odho told Dawn.com.
Dr Vohra's guards relatiated and fired back at the attackers who managed to escape the scene.
MQM's Coordination Committee and party chief Altaf Hussain condemned the attack on the MPA and called for the government to investigate the attack and nab those responsible.