No check on toxic emissions
By Akram Malik
DATELINE GUJRANWALA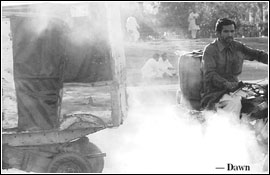 THE air pollution caused by furnaces and factories situated in residential areas has become a permanent health hazard for the citizens. According to a survey report gleaned by Dawn, the toxic fumes emitted by 3,165 factories and 578 furnaces in various parts of city are triggering respiratory and skin diseases.
The worst-hit areas are: Khiali Shahpur on Sheikhupura Road, Mian Sansi Road, Muslim Road, Bajwa Road, Jinnah Road, Gondlanwala Road, Hafizabad Road, Ferozewala Road, Sialkot Road, Small Industrial Estates in Model Town and Wahdat Colony. Residents of these localities have demanded of the City District Government Gujranwala to take measures to offset the effects of air pollution.
A union council nazim, Rizwan Cheema, said citizens deserved better facilities for they were paying Rs29 million annually in sophisticated taxes to the federal and provincial governments.
The city district government and the department concerned had fallen down on the job to save the people from the menace of air pollution, particularly in Shahpur Khiali town, alleged Nasir Goraya, another union council nazim.
He said it was the responsibility of the city district government to move against owners of factories and paper mills who failed to adopt measures to control toxic emissions. He further alleged that the CDG only served on them formal notices and never believed in terms of taking stern action against violators. Mr Goraya suggested that all factories and furnaces should be shifted to outside the city limits.
It may be mentioned that residents of Khiali Shahpur Town had thrown traffic out of gear on Sheikhupura Road for several hours a few days back and demonstrated against the paper mills for their failure to check harmful emissions. They claimed that the emission caused by these paper mills was spreading various diseases besides damaging their buildings and valuable household items. Residents threatened to besiege the paper mills if the CDG and the department concerned failed to get implemented the laws to check air pollution.
When contacted, environment protection department district officer Shafqat Saeed Farooqi confirmed that beyond issuing notices to these factories and paper mills no action had been taken against them. He said the shortage of staff and vehicles were the main impediments to controlling air pollution.
* * * * *
THE Health Department has constituted mobile teams for the spray to eradicate dengue virus and other diseases. District Health Officer Dr Riasat Ali said the Punjab government had already released funds for the purchase of spray machines and medicines.
He said the spray was being started from the union council level while mobile teams would conduct the operation in Maraliwala and Qila Mian Singh villages. The DHO said that health teams had been directed to focus their campaign on open spaces, especially ponds and drains.
On the other hand, scores of nazims and councillors of union councils ripped to shreds the health department for delay in initiating the anti-dengue virus campaign. They termed the exercise a mere formality as the scorching heat had already exterminated the mosquitoes.
The bloody Saturday
By M. Ziauddin
DATELINE LONDON
SOME sections from among the Pakistani legal community in London are pouring over the cases of Abu Hamza, Augusto Pinochet and Omar Bakri Mohammad. The first one, controversial cleric Abu Hamza al-Masri has been jailed for seven years after being found guilty of inciting murder and race hate.
The second one, Bakri, chief of the banned Al-Muhajroon and allegedly the spiritual leader of Al Qaeda, was not allowed to return to the UK by the Home Office from Lebanon where he had gone voluntarily in 2005 after 'sheltering' in the UK for 20 years.
The third one, the late Augusto Pinochet, the former military dictator of Spain had to fight off a long-drawn extradition battle in British courts after the Spanish courts had found him guilty of being involved in grave human rights violations when he was ruling the country.
I would like to leave it to the imagination of my readers to puzzle over why these British lawyers of Pakistani origin joined also by a section of Pakistani students here are studying these cases trying hard perhaps to find parallels to take up.
"As his fiefdom descended into brutal violence, with the deaths of at least 40 people reported amid the worst political bloodshed Pakistan has witnessed in years, Altaf Hussain directed his followers by telephone from a safe place more than 5,000 miles away.," so said the Sunday Telegraph in its May 14 edition. The story was headlined 'Running Karachi from London (partly covered by Dawn on May 15).
Most Pakistanis here are highly distressed over the bloody happenings back home in recent weeks. They seem at a loss to understand why President General Musharraf looked the other way when fascist elements were unleashed against protesting lawyers and agitating political workers. Doesn't it go against the very spirit of his own declared doctrine—Enlightened Moderation? They ask. And in recent months he has been preaching the Muslim Ummah to resolve the conflicts within through dialogue. Then why is he rejecting this same route to a grand political reconciliation in his own country? They question.I have no answers. But I can recall for the benefit of those quizzing me some past events and recorded statements so as to help them find the answers to their questions on their own. I recall vividly the victory dance the president performed as he concluded his first and last address to the joint session of the current parliament in 2002. He then raised his two clenched fists and waved them at the opposition which had kept thumping the desk and shouting 'Go Musharraf Go' throughout his speech. Next, he turned towards the ruling coalition and saluted them smartly before making an exit clearly with spring in his feet.
And who can forget the chilling statement of his in one of his TV interviews before his troops killed Sardar Akber Khan Bugti? He had said something to the effect that today was not 1970s and that they (the Baloch Sardars) would not know what hit them. He carried out this threat in letter and spirit. One can only assume that Akber Bugti did not know what hit him before he died.
"Our neighbourhood, Nazimabad, was a tough place to live, and it has become tougher since. I would not call it the Harlem of Karachi, but perhaps it was the South Bronx (This scribe has lived in Nazimabad in 1950s and 60s. It never was a tough place in those days and certainly was not South Bronx. It became tough for its inhabitants only in late 1980s well after Musharraf had joined the army). A boy had to be street-smart to survive. There were inevitable street gangs, and needless to say, I joined one. Needless to say too, I was one of the tough boys…There was a bully in our area who would walk up to the boy who had caught a kite and demand that he hand it over, or else. Most boys would oblige. One day my older brother got hold of some string from a cut kite. The bully, accompanied by two other boys, rudely asked him to hand it over. I held my brother's hand and said, 'Why should we give you the string?' Then, without thinking, (the emphasis is mine) I punched the bully hard. A fight ensued, and I really thrashed him. After that people recognised me as a sort of boxer, and I became known as a dada geer—an untranslatable term that means, roughly a tough guy whom you don't mess with. The lesson I learned was that if you call a bully's bluff, he crumbles. The secret is to stand your ground for a few seconds, and your initial fright vanishes. This lesson later stood me in good stead as a commando." This is from Musharraf's book In the Line of Fire (Pages 26-27).
So, Musharraf is standing his ground believing that the Chief Justice, the lawyers' community and the opposition political parties backing the struggle for independence of judiciary would crumble in due course of time. But then by the time that time comes, would not the nation suffer beyond repair? So what? A commando does not waste time on thinking before taking the plunge as Musharraf did when he punched the fictional bully without thinking and learned a great lesson which later stood him in good stead as a commando. But then can you use as effectively the same lessons which stood you in good stead as a commando when handling political issues from the offices of the Presidency and the COAS?
"I first encountered General Musharraf when he acted as a Turkish interpreter during visits by the Turkish military. I declined to make him my military secretary. We initially refused his promotion because of his suspected though unproven links with the ethnic, often violent, party known as the Mohajir Qaumi Movement (MQM)." This is Benazir Bhutto in the revised edition of her book Daughter of the East, an autobiography (page 429). But then you don't have to believe everything BB says. In any case she herself says that the suspicion was unproven. It was actually Major General (retd.) Naseerullah Khan Baber who reportedly advised the former prime minister on the matter of Musharraf's promotion. Later, though on the advice of the then Chief of the Army Staff, Benazir is said to have overruled Baber, the then interior minister.