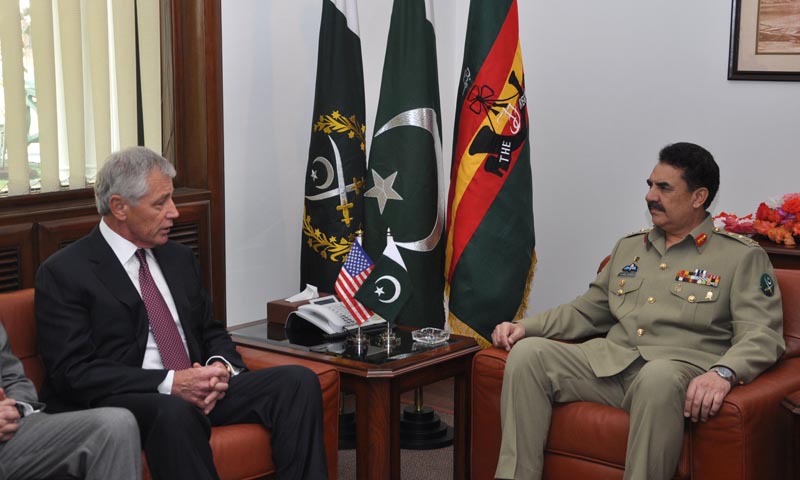 ISLAMABAD: Defence Secretary Chuck Hagel warned Pakistani leaders on Monday that if they don't resolve protests stalling some military shipments across the border with Afghanistan, it could be difficult to maintain political support in Washington for an aid program that has sent billions of dollars to Islamabad, defense officials said.
In response, the officials said, Hagel received assurances from the Pakistanis that they would take ''immediate action'' to resolve the shipment problem. The officials did not provide details on how that might be done.
Hagel departed from Pakistan after a brief visit during which he held talks with Pakistani Prime Minister Nawaz Sharif and the country's new army chief General Raheel Sharif on Monday.
In the first visit by a US defence secretary in nearly four years, Hagel flew from Kabul to Islamabad as Washington seeks to defuse tensions over controversial US drone strikes and Islamabad's role in Afghanistan.
Ties between Washington and Islamabad have been seriously strained over US drone strikes in Pakistan's tribal belt as well as Afghan Taliban sanctuaries inside Pakistan's borders.
After greeting Prime Minister Sharif at the start of their talks, Hagel said Pakistan and neighbouring Afghanistan had a "lot of common and mutual interests" and that he looked forward to discussing regional issues.
The meeting between the US Defence Secretary and Pakistani prime minister was also attended by Foreign Secretary Jalil Abbas Jilani, Federal Finance Minister Ishaq Dar, Federal Defence Minister Khawaja Asif and US special envoy for Afghanistan and Pakistan James Dobbins.
Hagel was in Pakistan "in recognition of the tremendous support that Pakistan has provided in the war on terror", a senior US defence official told reporters.
The defence secretary wanted "to deepen our defence partnership" and to affirm continued US military assistance, the official said.
"There is some friction in the relationship" and Hagel wished to tackle that "head on", he added.
The visit came as Hagel's deputies withdrew Sunday's statement that said Nato shipments out of Afghanistan through Pakistan were to resume due to the end of anti-drone protests.
Moreover, Hagel also met with Pakistan's army chief General Raheel Sharif at the General Headquarters in Rawalpindi.
Issues concerning defence relationship, Pak-US bilateral ties and regional stability came under discussion.
US Secretary of Defence was accompanied by US Ambassador in Pakistan Richard Olson and US Acting Assistant Secretary of Defence Dr Peter Lavoy.
In recent weeks, activists opposed to the drone raids forcibly searched trucks in northwest Pakistan in a campaign to disrupt Nato supply routes through the Torkham gate border crossing.
The club-wielding protesters have prompted US officials to halt the shipments to protect the safety of truck drivers ferrying Nato equipment.
Contractors were still concerned over anti-drone protests and the suspension had not been lifted, officials travelling with Hagel said.
Torkham gate is the main overland route used by the Americans and Nato to withdraw military hardware from Afghanistan as part of the troop pullout set to wrap up by the end of 2014.
President Barack Obama has defended the drone strikes as an effective, lawful tool used with restraint to target suspected al Qaeda militants.
But human rights groups and Pakistani politicians say the missile attacks have killed innocent civilians and must stop.
The Pakistani government had previously blocked the routes for seven months following US airstrikes that accidentally killed two dozen soldiers on the Afghan border in November 2011.
Pakistan finally reopened the routes after the US apologised.
The rift led the US to sever most aid to Pakistan for some time, but relations were restored in July 2012.
Since then, the US has delivered over $1.15 billion in security assistance to Pakistan, including advanced communications equipment, roadside bomb jammers, night vision goggles and surveillance aircraft.
US officials are also anxious to forge a constructive dialogue with the new army chief General Raheel Sharif, who is expected to be at the centre of decision making on sensitive security questions.
"Issues concerning defence relationship, Pak-US bilateral ties and regional stability came under discussion," the Pakistan military said after Hagel met the army chief, who last month succeeded General Ashfaq Kayani.
Pakistan is seen as crucial to peace in neighbouring Afghanistan as it was a key backer of the hardline 1996-2001 Taliban regime in Kabul and is believed to shelter some of the movement's leaders.
Pakistan is also battling a homegrown Islamist insurgency but US officials have long accused Islamabad's spy service of maintaining ties to the Afghan Taliban, as a hedge to counter any potential threat from India in Afghanistan.
Hagel visited Pakistan after two days in Afghanistan, where he urged the country's president, Hamid Karzai, to sign a long-delayed security agreement that will allow Nato-led forces to stay in the country after 2014.
Hagel began his trip last week in Bahrain, seeking to reassure Gulf allies that the United States would retain a robust military presence in the region despite an interim nuclear deal with Iran.
After morning meetings in Pakistan, Hagel was due to travel to Saudi Arabia and Qatar, where he was expected to renew his message of solidarity with the Gulf Arab states.
The Saudis in particular are wary of the diplomatic opening with Tehran as they view Shia-led Iran as a regional rival.
The last Pentagon chief to visit Pakistan was Robert Gates in January 2010.