Everyone says Hasina is too young to play football. But this four-year-old is determined to kick aside this notion. Come Sunday morning, she runs down to the maidan outside her home, ball in hand, to watch the neighbourhood girls, many of them in their teens, play football. Like her, girls of suburban Mumbra, are routinely told what all they can't do— like play football.
However, a group of 20 girls are challenging this mindset, thanks to the initiative of an NGO called Magic Bus, which uses sports to engage with children from deprived backgrounds. Through games, children are taught about key issues that impact their lives, like health, education and gender. Magic Bus runs several programmes across slum communities in Mumbai, areas where access to basic amenities is poor. Mumbra, where the programme was launched last year, is an especially challenging setting.
Located on the outskirts of Mumbai, Mumbra is home to a large Muslim population; many of whom came here in the 90s after the destruction of the Babri Masjid and the communal riots that followed. Many of them chose to stay on, insecurity being a major factor. The growing ghettoisation, activists say, has impacted the status of women. Illiteracy rate is high (24 per cent), as are early marriage rates; 28pc of girls from Mumbra get married before the age of 17.
"It is difficult to reach out to adolescent girls anywhere, but in a conservative area like Mumbra it is particularly difficult," says Saba Khan, co-founder of a local NGO, Parcham, which is working with Magic Bus in this initiative. The name Parcham is inspired by Indian Urdu poet Asrar-ul Haq Majaz, also known as Majaz Lakhnawi, who saw women as crusaders, who should revolt against exploitation and injustice. Through his romantic, revolutionary verses, Majaz urged women to look at the hijab, not as a barrier but a flag or banner — "Tere maathe pe ye aanchal bauhat hi khoob hai lekin, Tu is aanchal se ik parcham bana leti to achcha tha" (The cloth covering your head is no doubt a good thing. But if you make a flag out of it, it would be better). "In Mumbra, where all women wear hijab, it seemed like an appropriate name. We are using something which many see as a sign of repression, and turning it into a symbol of revolution," says Khan.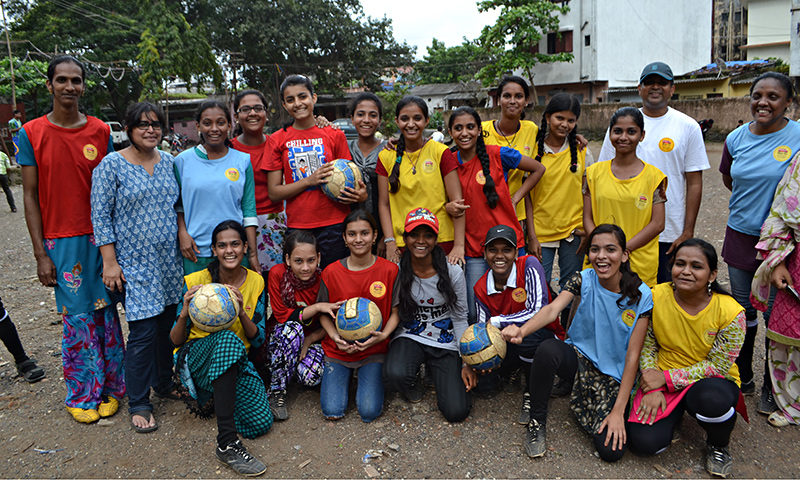 The revolution comes to life when you hear these girls talk about the battles they wage to steal a few hours kicking a ball with friends.
"I tell them I have sewing classes and slip out every Sunday," says Saba Parveen, 23, one of the older members of the gang. "My brothers will stop me from stepping out of the house if they get to know. I do feel scared but I am determined to play." Saba's brothers and father do not know she plays football, but her mother and sister are a big support. "In Mumbra, no one lets girls out of the house without a niqab (veil)," says Parveen.
Magic Bus usually works with mixed groups, something they had to change in Mumbra. "Families here would never have allowed their girls to play with boys," says coach Shaikh Masood Akhtar, a senior manager at the NGO.
"Religious and political groups dominate the area. There is a lot of discrimination against girls, but we have to find a solution," he adds. "A lot of the girls come wearing the hijab. They take it off while playing. But we don't insist either way. It is a personal choice."
Putting the group together was just one part of the problem. Getting them to stay together remains a tough challenge. "We started with 40 girls. Now there are 20," says Khan. "We distributed pamphlets in colleges and residential colonies urging girls to enrol. Many dropped out later." Family pressure is a big factor. Getting a ground to play in was difficult too. Finally a local temple came to their rescue by allowing them to use their ground. The girls now plan to form a club and compete against the local boys' teams.
"Just seeing these girls play is a huge thrill," says Khan, "especially to be able to claim public spaces for girls. It is not always safe. Sometimes boys try to intimidate us but we confront them. The most important change is that parents have come to realise that it's not enough to send the girls to school.They must get the opportunity to venture into the world outside and learn to cope."
Fourteen-year-old Simran's mother initially refused to let her play, but relented after watching the other girls. "I would watch these girls from my window, and I realised they were having so much fun," says Noor Mohammed Patel. "They were making friends. They looked so confident. I wanted my daughter to look the same."
For Neelam Deol, it's an opportunity to let her daughter Simran mingle in a mixed group. A Sikh, she has lived in Mumbra for the past two decades. "I moved here after marriage and I have seen people becoming more divided over the years. While playing, these differences dissolve."
Larger changes in the mindset are now becoming apparent. "Initially the boys resisted our attempts to play in the maidan," says Kausar Ansari, 32, the oldest in the group. "They would block our way when we came to play. But they saw our determination and opened up to us. Now they are very encouraging, and if someone says something they fight for us. I have come to realise just how much power we have within us to make a change. I feel that power within me now."
"I remember when we had our first meeting with the girls, they told us how stifled they felt," recalls Akhtar. "How hurt they felt with the thought that their parents did not trust them enough to leave the house without a male. They want to be seen as equals and that change is becoming apparent in the community. Sport has the power to do that.