But it seems that its very success may carry in it the seeds (anar seeds, perhaps?) of its destruction. The demand for chapli kebabs is so great in Peshawar that countless kebab shops have sprung up, many of which simply aren't up to scratch. Forget about low quality, the hygiene standards at some were so low that complaints arose about gastroenteritis and other diseases laying the chapli connoisseurs low.
The growing chorus of complaints reached the ears of the Peshawar High Court which, in all its wisdom, took a suo moto notice on this pressing issue on September 10, 2013.
The motive behind the action was to check adulteration in food items and also to draw the attention of the provincial government to the need to amend the ineffective and outdated Food Ordinance of 1965. Peshawar takes its chapli kebab quality very seriously indeed.
Subsequently, during a hearing on September 19, 2013, the chief justice of PHC, Dost Mohammad Khan, imposed a ban on the use of fats oil (oil made from animal fat), or dhal in local jargon, in the preparation of chapli kebab. Kifayat Khan, Ration Controller for district Peshawar, told Dawn that the PHC's Chief Justice had issued directives to his department as well as to the provincial health and livestock departments and the commissioners to keep a vigilant eye on the substandard food items being sold, including chapli kebab. "We have already formed teams for checking and conducting raids in the city. Chapli kebab will now only be cooked in either cooking oil or pure ghee and not in dhal," Mr Khan assured us.
Most chapli kebab shops are located on the roadsides, where they are open to not just hungry customers but all sorts of dust and filth. Most of the kebab sellers don't care much about cleanliness and even use the meat of dead animals and other unhealthy ingredients.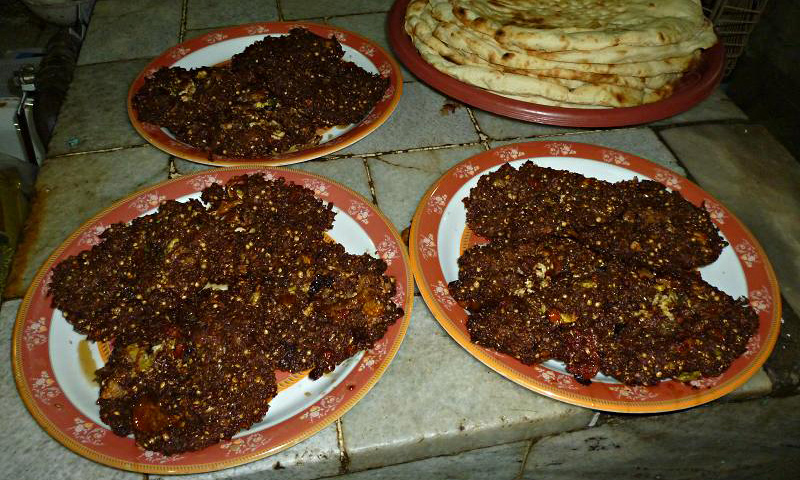 In was not always so. In the good old days Takht Bhai Kabab (Mardan), Bakhshu Pul Kabab, Taru Kabab and Turay Kabab were popular chapli kebab joints among locals and tourists.
The 'Jalil Kabab House', set up in 1950 in Peshawar's Firdous Restaurant, is one of the few shops which has maintained its standards since its inception. Even today, about 1,000 people including tourists, politicians, students and celebrities dine there every day, and around the same number of people order home delivery on a daily basis at its main branch.
General Manager of Jalil Kabab House, Ejaz Ahmad, says "A few years ago our boss had to open other branches — two in Hayatabad, one each in Gulbahar and in Firdous next to our main branch and also in Charsadda and Islamabad — in order to meet the increasing demand. For a long time we have been using cooking oil and have made it a point to use fresh minced meat and other ingredients in our kebabs. People take our chaplis to Dubai and other countries as a special gift. Besides that people place orders for special kebabs for wedding parties, etc. One kilo of special chapli kebab is being sold for Rs360 and the normal variety for Rs340. Till some time back foreign and local tourists would swarm our shop, and we used to have long queues of people waiting their turn. Orders for special chapli kebab for Karachi, Lahore and Islamabad are still pouring in."
There are more than 2,000 chapli kebab shops in and around Peshawar city alone. While almost every roadside and street offers it, not all use pure ingredients. The posh Hayatabad, University road, Namakmandi, Shoba bazaar, Peshawar Saddar, Charsadda Road and Ring Road and a few other points delight the visitors with their special traditional food choices. Well-reputed restaurants around the city also provide chapli kebab on order. Mian Hassan Khan Shinwari, senior vice President of Pakistan Hotels and Restaurants Association Peshawar (PHRAP) told Dawn that his organisation fully supported the Court's decision adding that he had already conveyed to the kebab sellers on several occasions not to use dhal and provide quality food to the people.
Many years ago kebab used to be a poor man's dish, but because of the high prices of the ingredients, it's quickly becoming a luxury. Chapli kebab is served along with green tea in winter, while in summer cold drinks are the preferred accompaniments. Normally chapli kebab is enjoyed with salad and bread /naan but some people also have it with Kabuli pulao. Some cooks use corn flour and chopped onions in excessive quantity in preparation of chapli kebab which does sometimes mar its flavour. Compared to the more than 10 varieties of kebabs, including 'roll' and 'seekh kebab', chapli kebab is preferred by most people because in other varieties one cannot add so many ingredients. That's why the (chapli) Kebab is king!
Chapli kebab is my first favourite food pick, most often I turn up at the Thanawala Kabab house on University Town, Peshawar close to my residence. It's a thriving business and they have opened three more branches in our vicinity. Several food festivals were held during our tenure in KP, where chapli Kebab was at the top. Guests demand special Peshawari chapli kebab.
Bushra Gohar,
politician
Almost every weekend I used to take my family to a popular kebab shop in Peshawar. When I was young I frequently visited Shoba bazaar and Namak Mandi to have chapli kebab. Nowadays I take care because of the age factor and also for fear of throat infection. On the occasion of Eid, we prepare chapli kebab at the hujra for the guests.
Khayal Mohammad,
Pashto ghazal maestro
My visit to Peshawar is never complete without Chapli kebab, but only a few shops in Peshawar offer quality and taste. In teenage years my first crush was the kebab. It's a good simple dish with lots of flavour.
Ajab Gul,
film star