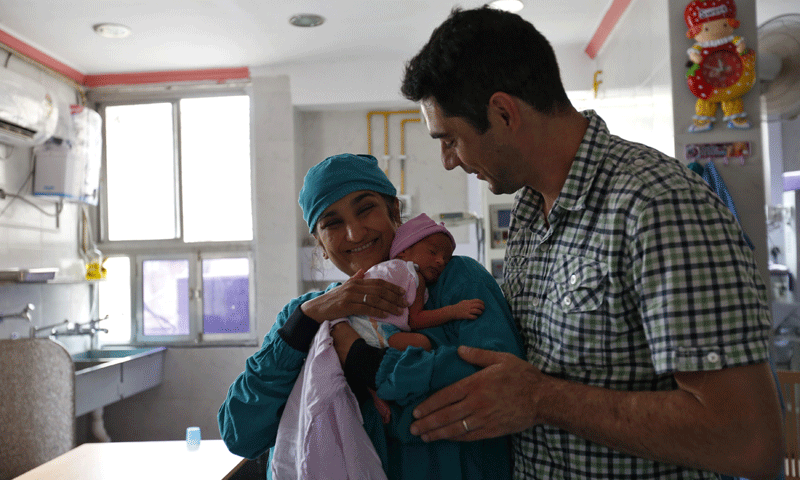 NEW DELHI: Commercial surrogacy in India has become a profiteering business with an annual earning of $1 billion.
Most pregnant mothers are kept in Shelter Homes during their days of confinement; critics have dubbed these homes as "baby factories".
Why do women take such a step?
A 28-year-old surrogate mother Vasanti, said, "In India, relationships and family are very highly valued. One can do anything for one's children. I have become a surrogate mother so that I can provide my children with all the very best in life, which I have only dreamed of."
Vasanti is at present pregnant; but the child protected in her womb is not her own, instead it belongs to a Japanese couple. Vasanti shall be paid $8000 for her troubles.
Such a huge amount is like a dream to Vasanti, who can now build a new home and also educate her kids, who are seven and five years of age. With regards to the impending payment, Vasanti declared that she was extremely happy with the arrangement.
The "baby production" process
The procedure for injecting her womb with the embryo of the Japanese couple was undertaken in the Akanksha IVF Centre in Anand town of the Gujrat state. She has been moved to a nearby temporary shelter home provided by the centre, where she will continue to live for nine months.
This home houses a 100 other surrogate mothers just like Vasanti. All of these women are under the supervision of gynecologist, Doctor Nayana Patel.
Each room in the shelter home is allocated to 10 surrogate mothers, who are provided with food and vitamins. They are also instructed to rest regularly; Vasanti however does not rest that often.
"I keep roaming around here and there at night because I can't sleep. As the child in my womb grows, I am beginning to get bored. I want to go home as soon as possible, back to my husband and children."
According to the rules and regulations of the shelter home, pregnant surrogate mothers are prohibited from indulging in sexual acts. These women are also very explicitly told that in case of any complexities, the doctors, the parents who have donated the embryo(s) and the hospital will not be liable to pay for any damages.
If a surrogate mother carries twin embryos until the time of delivery she is paid $10,000 but if she suffers a miscarriage during the first three months, then she is only paid $600 for her troubles.
Moreover, if the birthing process is successful, the shelter home is paid a fee of $18,000 by the donor couple.
Dr. Nayana Patel, who is in charge of the shelter home and the IVF Clinic, admits that her profession is a breeding ground for criticism because of its controversial nature.
"I have faced many difficulties during my work, and I shall continue facing them, because our line of work is extremely controversial."
According to Patel, critics have also defamed the shelter home as a place for the production and selling of children, some even going so far as to calling it a "Baby Production Factory".
"Such allegations really hurt me," Patel says.
Some critics claim that surrogate mothers are exploited to make a profit, but Patel believes that the world's trading companies, political platforms and the glamour industry are all much harder than this.
"I think everybody is using each other to attain their own personal goals," declares Patel.
She also believes that the surrogate mothers in her shelter home are getting a fair deal under her surveillance.
"I know these women are undergoing physical labour, but they are also being paid for their troubles. They know that nothing can be gained without working hard for it."
A hub of surrogacy
While staying in the temporary home, these women are also taught how to stitch clothes and cook, so that when they leave they can continue to support themselves and their families with dignity.
The reward given to these surrogate mothers at the end of their trials is enough, according to Patel.
Vasanti is paid for her troubles every month; a payment which greatly exceeds her husband's $40 monthly salary.
Some surrogate mothers even return to the shelter home after they have given birth, but Patel refuses to accept their services after the third time.
According to Patel, there are several reasons as to why India is fast becoming a hub for surrogacy. These reasons include the low cost of surrogacy, the good medical aid which is provided to these mothers and also the helpful laws that allow such activity to take place and flourish.
However, surrogate mothers in India have no rights over their children after they are born, and neither are they expected to care or be responsible for them. Therefore, surrogacy is extremely easily undertaken within the land.
In contrast to this, surrogate mothers in the West are considered the true mothers of the children, and even the birth certificate which is provided has the surrogate's name as the child's biological mother.
About one-third of the world's poor live in India, and critics believe that it is only abject poverty which forces women to take such a course.
Patel stated that India has a very high number of needy women.
"Food, shelter, clothes and medication are not free for everybody in the country. People have to really work hard in order to get their right here," says Patel.
She added that she advises surrogate mothers to carefully spend the money they receive for their efforts at the shelter home.
Vasanti's story
Vasanti and her husband Ashok built a new home for their family. Ashok said that their previous house had been rented, and the new one was much better in comparison.
"My parents will be very happy to know that my wife and I have finally made our own home. Our social status will also increase, which is a great thing!"
However, Vasanti and Ashok paid a heavy price for the new home they currently have. They could not build it in the same neighbourhood because they were afraid of the misconduct and the taunts that would surely come their way.
Vasanti was getting increasingly worried as the time for delivery comes near.
"I don't know if the parents of the child will immediately take him away, or whether he will have to stay with me for 10, 15 or even 20 days. I might not be allowed to see him at all!"
She was shifted to a hospital for her delivery, where Dr. Patel had decided to conduct a cesarean.
While in India a son is hailed as good news, Vasanti was worried because the Japanese donor parents had wanted a baby girl.
However, after the delivery, the newborn was immediately shifted to another hospital, from where the parents would take him to Japan.
Vasanti was depressed at just catching a glimpse of the baby, and her eyes filled up with tears as she recalled him.
"I saw my son while the cesarean was taking place, I saw him! But then they took him away. They should have at least let me see him for five seconds!"
Vasanti has now started living a new life with her family in her new home. Her children also go to English-medium schools.
"My kids are growing up, and we took this step to ensure a better future for them. But I would never want my daughter to become a surrogate mother."