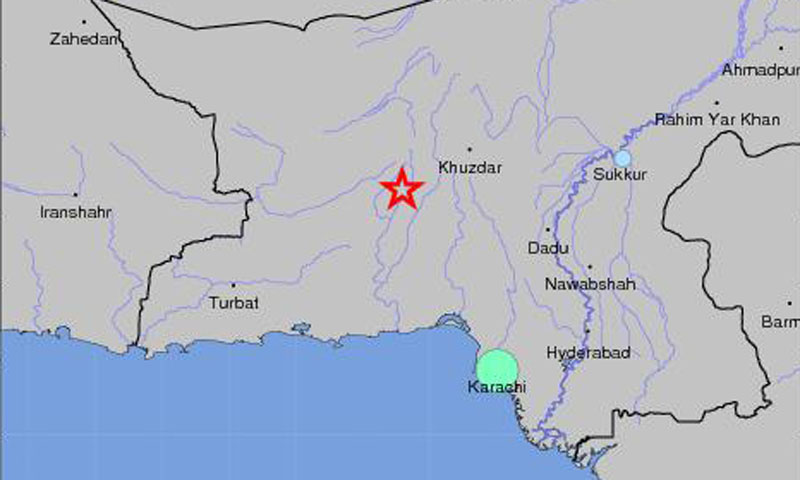 QUETTA: At least 15 people were killed Saturday when a powerful 6.8-magnitude earthquake struck Balochistan in a region already devastated by a massive quake earlier this week, officials said.
Khan Wasey, a spokesman for the Frontier Corps paramilitary force, confirmed the deaths. He said at least 50 people were injured in Nok Jo village and Mashkay area of Awaran district.
The most recent deaths bring the total toll from the two quakes to 374 and the total number of people injured has risen to 825.
According to the US Geological Survery, the epicentre of the quake was recorded at 96 kilometres northeast of Balochistan's Awaran district and 14 kilometres deep.
The local meteorological office recorded the intensity of the earthquake at 7.2 on the Richter scale and said the epicentre of the quake was 150 kilometres southwest of Khuzdar.
Rasheed Baloch, deputy commissioner in Awaran district, earlier said more than sixty mud-walled houses collapsed when the earthquake struck the village. He said said four bodies from the quake earlier in the week were also retrieved from the rubble.
Baloch said a rescue operation was underway in the district and its surrounding areas to retrieve the bodies and shift the injured to hospitals. "Poor communication system is a major hindrance in the way of relief operation," he said.
Strong tremors were felt in different parts of the province.
People panicked and came out of their homes in Quetta, the provincial capital. "I was sitting in my office when the earthquake struck," said Nazeer Ahmed, a provincial government official in Quetta.
The Balochistan Assembly session was underway when the earthquake struck. Television footage showed ministers and members of the assembly walking out of the session due to the tremors as the session was temporarily suspended.
Aftershocks were felt in Kech, Khuzdar, Kalat and other towns of the province. The tremors were also felt as far away as Naushero Feroz, Shikarpur, Karachi and Hyderabad in Sindh province.
Patients undergoing treatment at the Awaran district hospital also came out of hospital wards after the tremors. "More than one hundred injured are now outside Awaran hospital," Muhammad Tariq, a local journalist said.
Earlier on Friday, the death toll from a 7.7-magnitude earthquake which jolted the same area earlier on Tuesday rose to 359 with over 600 people injured. The September 24 quake had struck Balochistan's Awaran and Kech districts and relief work was still underway in the area.