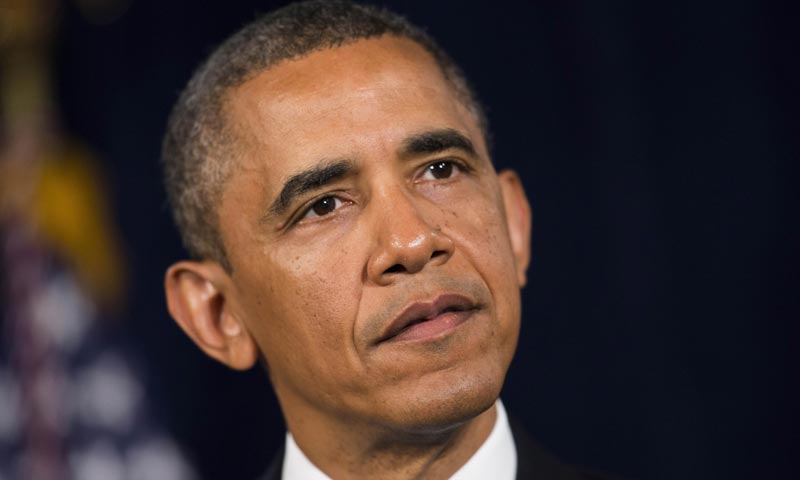 WASHINGTON: President Barack Obama on Friday defended US spy agency programs which trawl phone and Internet data, saying they were legal, necessary to combat terror and balanced privacy and security.
Obama made his first public comments on a dramatic set of revelations which began to expose the vast sweep of secret US intelligence infrastructure, sustained and extended since the September 11 attacks in 2001.
"Nobody is listening to your telephone calls," Obama said in San Jose, California, hitting out at what he said was "hype" over reports that the National Security Agency (NSA) logs details of millions of domestic calls.
Obama also defended a program called PRISM in which NSA and FBI agents are tapping into the servers of nine US Internet giants, including Facebook, Google, YouTube, Apple and others, as they try to subvert terror plots abroad.
"This does not apply to US citizens. And it does not apply to people living in the United States," Obama said.
Civil liberties and privacy groups have raised alarm at the two programs, reported by the Guardian and Washington Post newspapers, warning they are "Orwellian" and could be unconstitutional.
Obama said he welcomed the debate, but warned that the programs had previously been kept under wraps to avoid tipping off America's enemies, and said they made only "modest encroachments" on privacy.
"I think it's important to recognize that you can't have 100 per cent security and also then have 100 per cent privacy and zero inconvenience. We're going to have to make some choices as a society," he said.
He repeatedly argued that Congress had been kept fully apprised of the activity, and had voted to authorize it. Federal and secret intelligence courts were also used to ensure that the authorities were not abused.
The Washington Post, citing a career intelligence officer, reported late Thursday that the NSA had direct access to Internet firm servers, to track an individual's web presence via audio, video, photographs and emails.
The paper said the leak came from a career intelligence officer "with firsthand experience of these systems and horror at their capabilities.""They quite literally can watch your ideas form as you type," the officer was quoted as saying.
Internet giants however denied opening their doors for US spy agencies.
"We have never heard of PRISM," said Apple spokesman Steve Dowling.
"We do not provide any government agency with direct access to our servers, and any government agency requesting customer data must get a court order."
Facebook's chief security officer Joe Sullivan said the huge social network did not provide any access to government organizations.
As a damage control operation gathered pace, America's top spy chief James Clapper warned that data gathered under the program was "among the most important and valuable foreign intelligence information we collect."
"The unauthorized disclosure of information about this important and entirely legal program is reprehensible and risks important protections for the security of Americans," said Clapper, the director of national intelligence.
Claims of the Internet spy operation broke as Washington reeled from a Guardian newspaper report on Wednesday detailing an apparent operation by the NSA to capture millions of domestic phone records.
Mike Rogers, Republican chairman of the House Permanent Select Committee on Intelligence, said the program had stopped a terrorist attack on US soil.
Advocates say the data, collected on calls inside and outside the United States by the NSA, can be crunched to show patterns of communication to alert spy agencies to possible planning for terror attacks.