Live
Police use tear gas, rubber bullets to disperse crowds; protesters respond by throwing stones at security forces.
Apex court says protesting leaders are undermining 'glory of Islam'.
Daraz will start its main sale with a brand new identity tonight.

And it was a long time coming!
A major London bookmaker has stopped taking bets on a 2018 royal wedding after it seems that an engagement is imminent
The superhero film also stars Brie Larson, Ben Mendelsohn and Samuel L. Jackson
At least 80 others were wounded in the bomb and gun attack, officials said.
Jamaatud Dawa chief accuses India of fuelling terrorism in Pakistan.
Mnangagwa becomes second leader of Zimbabwe since independence from white minority rule in 1980.
Lung cancer starts as a small nodule, which can be easily missed on a regular chest X-ray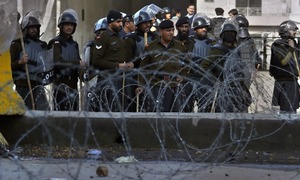 Not everyone has the luxury of sitting at home just because the city is under siege.
Major work remains to be done if we are to avert a climate catastrophe.

The chaotic political developments in Karachi over the past week seemed to indicate weakness and manipulation.
I felt that my presence was not being acknowledged and my voice was not being heard. We [MQM-P and PSP] have been
One man's efforts to give the children of his village a better future have strengthened a sense of community

The unspoken culture of the casting couch plagues entertainment industries all around the world. Pakistan is no
Murder on the Orient Express looks stunning and is easily one of cinematographer Haris Zambarloukos's best works but
Speculations are rife about who is going to hold the reins of Coke Studio's next season (or from the next season) now